Details

Key features:
Resolution: 3 MP (2304 x 1296)
2.8-12 mm / 108°- 31° motozoom lens
H.264+/H.264/MJPEG video compression
3D-DNR, WDR, BLC video processing functions
Hardware WDR with 120 dB range
Support for microSD/microSDHC/microSDXC cards up to 128 GB
Access via Ezviz, Hik-Connect apps
Region of interest (ROI)
ANR function
Mechanically switching IR filter
IK10 rating (vandal-proof)
IP67 rating
Power: 12 VDC or PoE (802.3af)
The DS-2CD1731FWD-I camera is dedicated for professional IP CCTV systems. The ceiling camera has been equipped with 3 MP 1/3" CMOS sensor providing good video coverage even in low-light conditions. Along with IR illuminator with range up to 30 m, the camera can also operate in complete darkness. The built-in 2.8-12 mm varifocal lens allows for adjustment of the viewing angle within 108° to 31° range. Hardware WDR with 120 dB dynamic range guarantees very good visibility of details both in light and dark regions of the scene. The IP67-rated housing of the camera protects the electronics against adverse weather conditions. The camera can be powered conventionally with a 12 VDC source or with the use of PoE option (802.3af).
The camera belongs to a new Easy IP Lite series characterized by high performance and affordable price. The series supports motion detection and video tampering detection. The cameras from the series also provide corridor mode and possibility of defining one Region of Interest (ROI).
The user can select H264+, H.264, or MJPEG video compression. In the case of the H.264+ compression, the data stream is additionally minimized for static scenes, without noticeable loss of image quality. The compression algorithm, based on H.264, has been optimized by Hikvision for applications in CCTV systems. Compared with H.264, it can reduce by half the data stream, which translates into proportional savings of the disk space or extended data retention time. The camera can operate with NVRs supporting H.264/H.264+ video compression (series E, K, I).
With the support of ANR (Automatic Network Replenishment), any IP camera equipped with a memory card can record video in the absence of network connection. After the restoration of the network connection, the recordings are automatically synchronized with those recorded on the NVR. This ensures continuous coverage of events, even in the case of communication problems between the camera and NVR.
The users of Hikvision IP cameras and NVRs can use free
Hik-Connect
service, which provides remote access to the devices in the case of dynamic IP addresses, or allows for the use of domain names in web browsers. It is necessary to create
Hik-Connect
account and add the devices. The service can be operated via a web browser or applications (for a PC and smartphone).

Ezviz
(EasyVision) is a free service which can be activated in Hikvision NVRs and IP cameras. This free service allows less advanced users to easily access to the video from the cameras via the Internet, without forwarding router ports. To enable remote access, the user should only connect the device to the network (which requires a valid IP address and appropriate gateway settings). The next step is the creation of user account at the
www.ezviz7.com
website. The account can accommodate devices in a local area network (with activated Ezviz service). The devices will be available from anywhere via the Internet.
The degree of protection (IK rating) provided by enclosures for electrical equipment against external mechanical impacts is defined in the EN 62262 standard. The EN 62262:2003 standard specifies the conditions of the testing procedure.
The K17424 camera has IK10 rating.
IK code

Protection
Impact equivalent

Impact energy

Free fall hammer - mass ... height
IK06
1 J
0.5 kg …... 20 cm
IK07
2 J
0.5 kg …... 40 cm
IK08
5 J
1.7 kg … 29.5 cm
IK09
10 J
5 kg …...... 20 cm
IK10
20 J
5 kg …...... 40 cm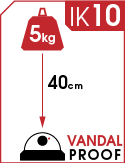 Name
HIKVISION DS-2CD1731FWD-I
Code
K17424
Video system

IP

Housing type

Ceiling (dome)

Image sensor

1/3" Progressive Scan CMOS
Sensitivity

0.01 lx @ (F1.2, AGC ON),
0 lx in IR mode

Resolution
2304 x 1296 pixels

Frame rate
20 fps at 2304 x 1296,
25 fps at 1920 x 1080 or lower res.
Lens
2.8 -12 mm @ F1.4 / 108o - 31o
Compression

H.264+/H.264/MJPEG
Number of video streams
2
Bit rate range

32 kbps - 16 Mbps
IR range

up to 30 m

Video processing

3D-DNR, WDR (120 dB), BLC
Mechanically switching IR filter

Yes
Gain
Automatic/Preset
Alarm events
Motion detection, video tampering
Intelligent image analysis

Not implemented

Corridor mode

Yes
ROI
1 region
ANR

Yes
Recording
NAS (NFS/SMB/CIFS), FTP (screenshots)
Network interface

RJ-45 10/100Base-T
Protocols
TCP/IP, ICMP, HTTP, HTTPS, FTP, DHCP, DNS, DDNS, RTP, RTSP, RTCP,
PPPoE, NTP, UPnP, SMTP, SNMP, IGMP, 802.1X, QoS, IPv6, Bonjour
Supported standards

ONVIF (S, G profiles), PSIA, CGI, ISAPI
Housing material

Aluminum alloy

IP and IK ratings

IP67, IK10

BNC output

Yes
Power
12 VDC

± 25%


PoE IEEE 802.3af
Power consumption

Max. 5.5 W
Operating temperature range

-30°C ...+60°C
Dimensions

Φ141 × 99 mm

Weight
1 kg
Zusatzinformation
| | |
| --- | --- |
| Gewicht | 1.000 |
| Lieferzeit | 2-3 Tage |
Es stehen keine Artikel entsprechend der Auswahl bereit.
Es stehen keine Artikel entsprechend der Auswahl bereit.