Details


Key features:
Resolution: 8 MP (3840 x 2160)
2.8 mm/ 102° lens
H.265+/H.265/H.264+/H.264/MJPEG video compression
IR illuminator (EXIR 2.0) guarantying even lighting within range up to 30 m
Intelligent image analysis (face detection, virtual line crossing, intrusion detection, detection of leaving/taking objects)
Support for microSD/microSDHC/microSDXC cards up to 128 GB
Support for three streams
WDR (hardware): 120 dB
Video enhancement functions: 3D-DNR, WDR, BLC
Region of interest (ROI)
Access via Ezviz, Hik-Connect apps
ANR function
IP67 rating
Power: 12 VDC or PoE (802.3af)
Hikvision DS-2CD2085FWD-I camera is dedicated for professional IP CCTV systems. The compact (bullet) camera has been equipped with 8 MP 1/2.5" CMOS sensor providing good video coverage even in low-light conditions. Along with IR illuminator with range up to 30 m, the camera can also operate in complete darkness. The built-in 2.8 mm lens has 102° viewing angle. The IP67-rated housing of the camera protects the electronics against adverse weather conditions. The camera can be powered conventionally with a 12 VDC source or with the use of PoE option (802.3af).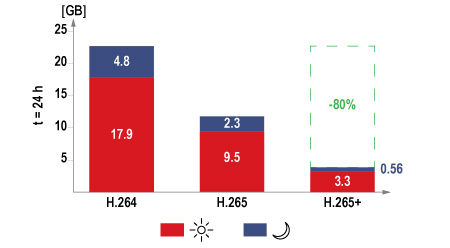 H.265+/H.265 - większa kompresja przy zachowaniu jakości obrazu z H.264.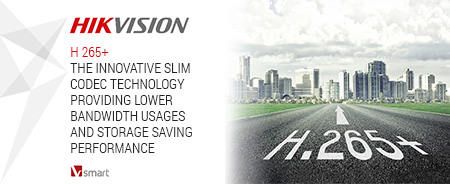 The built-in powerful IR illuminator has a range of up to 30 m. The illuminator based on the newest Exir 2.0 light-emitting technology has ca. 30% higher efficiency compared with traditional IR LED arrays. Additionally, the IR light in the form of a rectangle fits the camera's field of view. This further improves the efficiency of the lighting and eliminates the excessive light intensity in the central part of the scene, typical for majority of IR illuminators. Exir 2.0 illuminators ensure much better luminance uniformity, including corners of the scene, at the same time reducing light pollution in the surrounding environment. Compared with the previous version, Exir 2.0 illuminators feature longer service life thanks to optimized heat dissipation, up to 20,000 hours.
With the support of ANR (Automatic Network Replenishment), any IP camera equipped with a memory card can record video in the absence of network connection. After the restoration of the network connection, the recordings are automatically synchronized with those recorded on the NVR. This ensures continuous coverage of events, even in the case of communication problems between the camera and NVR.
The users of Hikvision IP cameras and NVRs can use free
Hik-Connect
service, which provides remote access to the devices in the case of dynamic IP addresses, or allows for the use of domain names in web browsers. It is necessary to create
Hik-Connect
account and add the devices. The service can be operated via a web browser or applications (for a PC and smartphone).

Ezviz
(EasyVision) is a free service which can be activated in Hikvision NVRs and IP cameras. This free service allows less advanced users to easily access to the video from the cameras via the Internet, without forwarding router ports. To enable remote access, the user should only connect the device to the network (which requires a valid IP address and appropriate gateway settings). The next step is the creation of user account at the
www.ezviz7.com
website. The account can accommodate devices in a local area network (with activated Ezviz service). The devices will be available from anywhere via the Internet.
SADP
(Search Active Device Protocol) is a free and simple to use utility for searching Hikvision IP cameras and
Hikvision
DVRs/NVRs in the local network. The network device search tool can also be used for modification of network parameters of the Hikvision devices, including the change of passwords or recovery of default passwords. Detailed information on the software and its use is contained in the
SADP application - LAN tool for organizing CCTV systems based on Hikvision devices
article.
Name
HIKVISION DS-2CD2085FWD-I
Code
K17597
Video system

IP

Housing type

Compact (bullet)

Image sensor

1/2.5" progressive scan CMOS
Sensitivity

0.01 lx @ F1.2, AGC ON;
0 lx in IR mode

Resolution

3840 x 2160
Frame rate
20 fps at 3840 x 2160
25 fps at lower resolutions
Lens

2.8 mm / 102o
Compression

H.265/H.265+/H.264/H.264+/MJPEG
Number of streams

3
Bit rate range

32 kbps - 16 Mbps
IR illuminator range

Up to 30 m

Video processing functions
3D-DNR, WDR (120 dB), BLC
Mechanically switching IR filter

Yes
Video processing

3D-DNR, WDR(120dB), BLC
Gain
Automatic/Preset
Alarm events
Motion detection, dynamic analysis, tampering
Intelligent image analysis

Face detection, virtual line crossing, intrusion detection,detection of leaving/taking objects
Corridor mode

Yes
ROIs

1 region
ANR function

Yes

Recording
NAS (NFS/SMB/CIFS), FTP (screenshots)
Network interface

RJ-45 10/100Base-T
Protocols
TCP/IP, ICMP, HTTP, HTTPS, FTP, DHCP, DNS, DDNS, RTP, RTSP, RTCP,
PPPoE, NTP, UPnP, SMTP, SNMP, IGMP, 802.1X, QoS, IPv6, Bonjour
Supported standards

ONVIF (S, G profiles), PSIA, CGI, ISAPI
Housing material

Aluminum alloy

IP rating

IP67

Power
12 VDC

± 25%


PoE IEEE 802.3af
Power consumption

Max 7 W (12 V), max 7.5 W (PoE)

Operating temperature range

-30°C ...+60°C
Dimensions

Φ70 × 155

mm
Weight
0.615 kg
Zusatzinformation
| | |
| --- | --- |
| Gewicht | 0.615 |
| Lieferzeit | 2-3 Tage |
Es stehen keine Artikel entsprechend der Auswahl bereit.
Es stehen keine Artikel entsprechend der Auswahl bereit.