Details
View of the toolbox. The retractable tray can hold fiber cleaver.
The box provides a solid and stable support
The detachable element can be used as a stool or small table
All necessary accessories are housed in a two-level drawer
Views of the included fiber cleaver
Other included accessories

Signal Fire AI-8 is a bit faster than AI-7. The minimum splicing time is 6 seconds (8 s in AI-7), the sleeve heating period is 15 seconds (18 s in AI-7). Another difference is the color of the housing.
The kit includes:
Signal Fire AI-8 fusion splicer
toolbox
set of spare electrodes
fiber cleaver
universal stripper
stripper for flat cables
bottle with dispenser
cleaning brush
carrying belts (for the splicer and the box)
AC charger
calibration fiber
Signal Fire AI-8 L5870 is a novelty in the market of fiber-optic fusion splicers. Despite of advanced fiber positioning and splicing technique, the device is offered for a very competitive price. The working comfort will be appreciated by both beginner and advanced users, including experienced installers. The quality and reliability of the splicing machine has been confirmed in a number of tests performed under a variety of environmental conditions and on different types of fibers.
Signal Fire is a dynamically developing company specializing in the manufacture of fiber optic splicers. Headquartered in Chengdu, it employs nearly 200 professionals. The devices are built with top-of-the-line components from renown manufacturers (including European ones), and based on technological solutions protected by numerous patents. The characteristic feature of splicing machines from Signal Fire is the use of smartphones for their configuration, archiving of operation data and for diagnostics. Products of this company have gained recognition in the markets of the whole world. The high quality of the offered devices is confirmed by the warranty policy providing a replacement after 50,000 splices.
Signal Fire AI-8 employs core alignment technology (there is option of cladding alignment) that ensures minimum attenuation of the splices. Fiber ends are positioned by 6 stepper motors from Siemens, which is an absolute exception in this price category. The splicer can be used both for deployment of hundred-kilometer-long fiber optic trunks and in FTTH systems requiring short point-to-point connections, in LAN installations and fiber-based video surveillance systems. The AI-7 model is controlled by a quad-core processor providing fast response times (the splicer is ready to work after 3 seconds) and ensuring short splicing and sleeve heating operations. The splicer is one of the fastest devices of its kind currently available on the market and the fastest in its price class.
5.1-inch screen with resolution of 800x480 pixels and adjustable brightness makes the operation simple and intuitive, even in difficult lighting conditions. The optical system offers magnification factor of 300, making it very easy to observe the splicing operations and visual analysis of the results (in two planes). The minimum splicing time is 6 seconds, and sleeve heating time (40 mm sleeves) is only 15 seconds. The built-in LED lamp enables the operator to work even without any other light source.
The universal fiber holders ensure comfort and speed of operations - they can hold 250 μm or 900 μm SM, MM fibers in tight buffer or loose tubes, pigtails, rubber-insulated fibers, multi fiber and DROP cables. The splicing machine offers various programs and Auto mode that works well in most situations.
The housing body is made of metal , underneath covered with rubber protection. The splicing chamber and heater cover are made of high quality plastics. The kit includes a practical box containing all the necessary tools, power supply and accessories (placed in two-level drawer mounted on durable metal guides). What is important, the installer does not have to take the splicer out of the box for splicing operations - the box provides a solid and stable support. The box is made of durable plastic and has a detachable element that can be used as a stool or small table.
The device is equipped with 7800 mAh rechargeable battery which has enough energy to perform 200 splices with sleeve heating cycles. The battery charging time is only 3.5 h. "Press & remove" design of the battery compartment allows for very fast battery change (there is a possibility to buy a spare battery). Additionally, the AI-7 splicer is equipped with a USB connector for charging a smartphone in the field from this high-capacity battery.
Key features
6 motors for fiber positioning,
core alignment or cladding alignment options,
AUTO mode option,
x300 magnification factor,
quad-core processor providing fast response times,
splicing time from 6 seconds,
quick sleeve heating period (15 s for 40 mm sleeve),
configuration with dedicated smartphone app (Android/iOS),
the app can create operation reports (export to xls),
large (5.1'') display with adjustable brightness,
metal casing underneath covered with rubber layer,
built-in LED lamp,
high-capacity exchangeable battery (7800 mAh, ca. 200 splicing and heating operations),
battery charging time: ca 3.5 h,
USB port for charging a smartphone,
universal fiber holders,
high quality practical toolbox,
large set of accessories.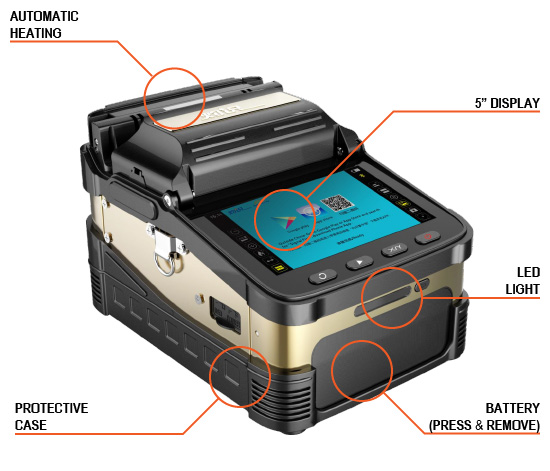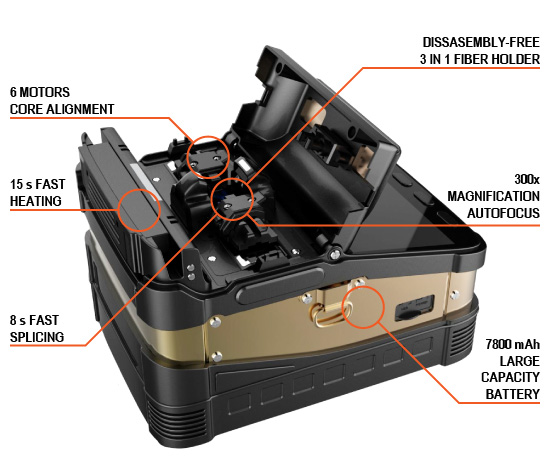 The splicer is immediately ready for operation. For daily work it does not need any configuration or additional application. The application available in
Google Play
oraz
AppStore
is required only for advanced management, e.g. for changing the default splicing program or calibration settings due to extremely changing environmental conditions. The application also includes an instruction manual in English and instructional videos.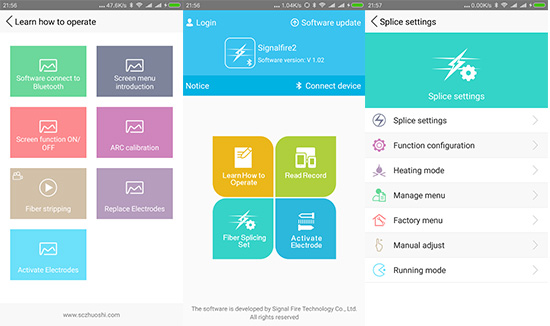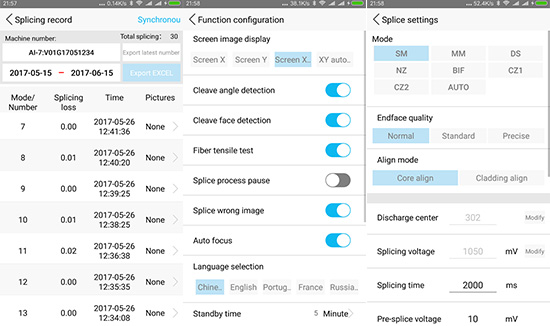 The application offered by the manufacturer allows the user to change parameters for both basic and advanced functions of the splicer. It is also possible to work in full manual mode with manual positioning of fibers in two planes. The application enables the user to view the history of splices made (optionally with pictures of bad ones) and export it to a spreadsheet (with date filtering option).
Notice: the warranty period for the rechargeable battery is 12 months.
Name
Signal Fire AI-8
Code
L5870
Fiber alignment

core-to-core
cladding-to-cladding
manual
Splicing cycle

6 s
Sleeve heating cycle

15 s (40 mm)
Number of motors

6
Auto-focus
Yes
Fiber type compatibility

SM (G.652, G.657), MM (G.651 - OM1, OM2, OM3, OM4), DS, NZDS (G.655)
Splice loss (typical)

0.025 dB (SM), 0.01 dB (MM),
0.04 dB (DS/NZDS)
Return loss

min 60 dB
Calibration of the electric arc
automated real-time, manual
Durability of electrodes

ca. 3000 splices (the kit includes spare electrodes)
Fiber diameter range

buffer: 80-150 μm
jacket: 100-1000 μm
Fiber cutting length

8 - 16 mm (250 μm overlap):
16 mm (>250 μm overlap)

Strength test

Yes (2 N)
Magnification
x300 (in X or Y axis; x150 in both axes simultaneously)

Display
5.1" color TFT, 800x480 pixels
Power
7800 mAh lithium rech. battery, charging time 3.5 h
100-240 VAC charger with 13.5 VDC / 4 A output

Operating temperature range
-15°C...+50°C
Operating humidity range (RH)

< 95% (no condensation)
Weight
2.08 kg (splicer with battery)
7.1 kg (whole kit)

Dimensions
splicer: 130 x 122 x 148 mm
toolbox: 270 x 237 x 293 mm
Remarks
built-in LED lamp
configuration and diagnostic app
protection sleeves up to 60 mm
Zusatzinformation
| | |
| --- | --- |
| Gewicht | 8.000 |
| Lieferzeit | 2-3 Tage |
Es stehen keine Artikel entsprechend der Auswahl bereit.
Es stehen keine Artikel entsprechend der Auswahl bereit.