Details


Resolution: 2 MP (1920 x 1080)
2.8 mm / 108° lens
H.265+/H.265/H.264+/H.264/MJPEG video compression
Dark Fighter (Ultra-low-light) technology
IR illuminator (EXIR 2.0) guarantying even lighting within range up to 50 m
Intelligent image analysis (face detection, virtual line crossing, intrusion detection, detection of leaving/taking objects)
Support for microSD/microSDHC/microSDXC cards up to 128 GB
Support for three streams
WDR (hardware): 120 dB
Video enhancement functions: 3D-DNR, WDR, BLC
ROI
Access via Ezviz, Hik-Connect apps
ANR function
IP67 rating
Power: 12 VDC or PoE (802.3af)
Hikvision DS-2CD2T25FWD-I5 camera is dedicated for professional IP CCTV systems. The compact camera has been equipped with 2 MP 1/2.8" CMOS sensor providing good video coverage even in low-light conditions. Along with IR illuminator with range up to 50 m, the camera can also operate in complete darkness. The built-in 2.8 mm lens has a viewing angle of 108°. Hardware WDR with 120 dB dynamic range guarantees very good visibility of details both in light and dark regions of the scene. The IP67-rated housing of the camera protects the electronics against adverse weather conditions. The camera can be powered conventionally with a 12 VDC source or with the use of PoE option (802.3af).
The camera belongs to the new, EasyIP 3.0 series of cameras, having excellent parameters for affordable price. With Dark Fighter (Ultra-low-light) technology, so far available only in Hikvision Project series, the camera ensures improved color rendition and image quality in low-light conditions. The embedded intelligent image analysis (VCA) includes detection of faces, virtual line crossing, intrusion detection, detection of leaving/taking objects. These features make the camera a perfect tool for implementing advanced video surveillance projects.
H.265+/H.265 video compression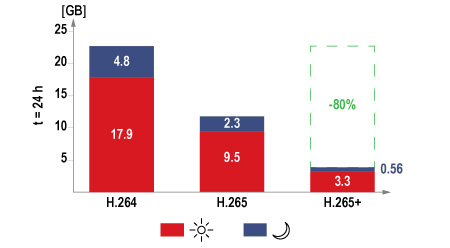 H.265/H.265+ - higher compression ratios with preserving video quality provided by H.264
The camera implements several video compression methods, H.265+, H.265, H.264+, H.264, MJPEG. Compared with H.264, H.265 can reduce by half the data stream, which translates into proportional savings of the disk space or into extended data retention time. H.265+ and H.264+ are Hikvision standards based on the original systems and optimized for CCTV applications. They further minimize the streams in typical video surveillance scenarios. With the advanced video compression algorithms, the camera can be used in IP CCTV systems based on modern NVRs implementing H.265 standard (the DS-76/77/96NI-I/K series supports H.265+, H.265, H.264+, H.264). Of course, the camera can also operate with older models supporting H.264 (the DS-76/77NI-E series supports H.264+, H.264).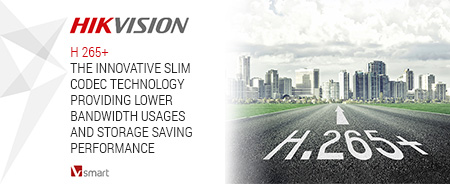 The built-in powerful IR illuminator has a range of up to 30 m. The illuminator based on the newest Exir 2.0 light-emitting technology has ca. 30% higher efficiency compared with traditional IR LED arrays. Additionally, the IR light in the form of a rectangle fits the camera's field of view. This further improves the efficiency of the lighting and eliminates the excessive light intensity in the central part of the scene, typical for majority of IR illuminators. Exir 2.0 illuminators ensure much better luminance uniformity, including corners of the scene, at the same time reducing light pollution in the surrounding environment. Compared with the previous version, Exir 2.0 illuminators feature longer service life thanks to optimized heat dissipation, up to 20,000 hours.
Continuity of recording thanks to ANR function
With the support of ANR (Automatic Network Replenishment), each the IP camera equipped with a memory card can record video in the absence of network connection. After the restoration of the network connection, the recordings are automatically synchronized with those recorded on the NVR. This ensures continuous coverage of events, even in the case of communication problems between the camera and NVR.
Convenient client applications
The iVMS 4200 client software enables users of HIKVISION devices to manage them in IP networks. The software allows for configuration and management of NVRs/DVRs, IP and analog cameras (in hybrid systems). The iVMS 4200 utility can remotely manage up to 256 devices, with the use of up to 4 monitors. One monitor can display up images from up to 64 cameras. Aside from system configuration and live monitoring, the utility can be used for remote playback, notifying, two-way audio transmission, creating multi-level e-maps.
Hik-Connect
is a mobile application, intended for smartphones running Android or iOS operating systems. It can be used for remote live viewing of images from DVRs, NVRs, network cameras via Wi-Fi, 2G or 3G networks, and for playing back recorded video files. The application connects with the devices by IP addresses and/or through the P2P cloud.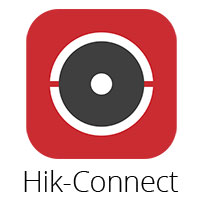 Hik-Connect
is also a network service for Hikvison devices. The service is based on data processing in the cloud and integrates the following functions:
Remote access through the cloud - it allows access to the device without having an external IP address and when simplicity is the most important thing. Only the basic configuration of the network is required. The application on a PC or smartphone connects with the device via P2P cloud service;
DDNS server - DDNS assigns a fixed domain name to dynamically changing IP addresses (Dynamic DNS). This feature is useful when the ISP does not provide users with a fixed IP address. The condition for using DDNS is having a public IP address and providing access from the external network to the appropriate ports of the NVR (server and http, by default 8000 and 80). The connection is possible via a web browser, client application on a PC and on smartphones.
LAN tool for organizing Hikvision IP CCTV systems
SADP
(Search Active Device Protocol) is a free and simple to use utility for searching Hikvision IP cameras and
Hikvision
DVRs/NVRs in the local network. The network device search tool can also be used for modification of network parameters of the Hikvision devices, including the change of passwords or recovery of default passwords. Detailed information on the software and its use is contained in the
SADP application - LAN tool for organizing CCTV systems based on Hikvision devices
article.
Name
HIKVISION DS-2CD2T25FWD-I5
Code
K17821
Video system

IP

Housing type

Compact
Image sensor

1/2.8" progressive scan CMOS
Sensitivity

0.005 lx @ F1.4, AGC ON;
0 lx in IR mode

Resolution

1920 x 1080
Frame rate
25 fps at 1920 x 1080
and lower resolutions
Lens

2.8 mm / 108o
Compression

H.265/H.265+/H.264/H.264+/MJPEG
Number of streams

3
Bit rate range

32 kbps - 16 Mbps
IR illuminator range

Up to 50 m

Video processing functions
3D-DNR, WDR (120 dB), BLC
Mechanically switching IR filter

Yes
Gain

AGC/adjustable
Video processing

3D-DNR, WDR (120dB), BLC
Gain
Automatic/Preset
Alarm events
Motion detection, dynamic analysis, tampering
Intelligent image analysis

Face detection, virtual line crossing, intrusion detection,detection of leaving/taking objects
Corridor mode

Yes
ROIs

1 region
ANR function

Yes

Recording
NAS (NFS/SMB/CIFS), FTP (screenshots)
Network interface

RJ-45 10/100Base-T
Protocols
TCP/IP, ICMP, HTTP, HTTPS, FTP, DHCP, DNS, DDNS, RTP, RTSP, RTCP,
PPPoE, NTP, UPnP, SMTP, SNMP, IGMP, 802.1X, QoS, IPv6, Bonjour
Supported standards

ONVIF (S, G profiles), PSIA, CGI, ISAPI
Housing material

Aluminum alloy

IP and IK ratings

IP67

Power
12 VDC

± 25%


PoE 802.3af
Power consumption

7 W (12 V), 9 W (PoE)

Operating temperature range

-30°C ...+60°C
Dimensions

Φ105 × 299 mm

Weight
1.43 kg

Zusatzinformation
| | |
| --- | --- |
| Gewicht | 1.430 |
| Lieferzeit | 2-3 Tage |
Es stehen keine Artikel entsprechend der Auswahl bereit.
Es stehen keine Artikel entsprechend der Auswahl bereit.